Skip to Content
10 Ideas for Easy Bathroom Living!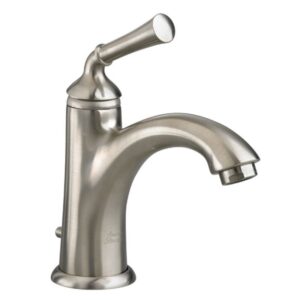 If you're remodeling, updating, or just wanting a little change in your bathroom, here are some things to consider that can make your life a little easier!
1. Need a new faucet? Look for a single handle goose neck. The single handle allows you to easily keep the hot and cold setting to where you find it comfortable without fooling around with separate hot and cold knobs. Also, it's one item to clean instead of three and it's easy to clean all the way around! The goose neck also allows more room for washing your hands without the faucet interfering.
2. Change the roll with ease with this Moen lift arm holder. No fussing with springs and parts, just lift the arm, add the roll, and put the arm down, done!
3. These Moen shower curtain rings glide easily along the bar and the double sided hooks make it easy to have a curtain plus a liner without having to take both off to wash just one, and hooks means there's no clasp to fuss with. What's more, one hook is lower than the other so that the liner will never show above the outer curtain!
4. Need more elbow room in the shower? Switch to a curved shower curtain rod. In a narrow shower, those extra few inches make all the difference! (They should have used the curtain rings from above  )
5. Not just your ordinary soap dispenser. This Cuisipro foaming soap dispenser is one of my most favorite things ever. It has a suction cup bottom to keep it in place and the design also allows you to get every drop of soap out! There's a measuring guide on the back to make any liquid soap a foaming soap by adding water. (I don't recommend putting soap in that has any kind of scrubbing crystals/beads, they will clog it and render your new, most prized possession useless – ask me how I know. ) Cuisipro offers a variety of colors and other styles too. (Don't forget to get one for the kitchen too.)
6. Top Down, Bottom Up… shade that is. This is perfect for a bathroom – you can still maintain privacy and allow light in. I've ordered from here before with no issues and installed it myself! They also open and close with nothing more than slight finger pressure.
7. Swap out your old wall mount shower head for a handheld. I like this because it also doubles as an easy way to spray down the shower for cleaning and washing the dog too!
8. Soft close toilet seat – ok, you don't have to have it, but if you're in the market for a new seat anyway, this one is comparable to a standard seat price, and you'll never have to hear the seat bang again! Just tap the top forward with a finger, and down she goes, nice and easy like. This Kohler model has an quick release clip so you can remove the whole seat easily to clean in those hard to reach crevices in the back.
9. Bathroom motion lights – sure, why not? I swapped out our standard switch with a motion sensor switch on the main lighting. This has worked out really well for several reasons. At night, there's no fumbling to find the switch, as soon as you cross the threshold, on comes the light. Hands full or dirty and you try to get the switch with your elbow? No need with the motion sensor. The great thing about it is you can set an internal timer so it's not just on for long periods of time with no one in there. And, you can adjust the sensitivity so it doesn't come on when the room is filled with natural light. Most bathrooms have a separate shower light, and for that I'd keep a standard switch for so you don't get stuck in the dark! On this Leviton model below, (you can get it at The Home Depot) there is also an on/off override as well.
10. Getting the most out of your vanity – If you are considering a new vanity, look for one with a few added features. This one is 36″ tall (standard height is typically 30″) making it more comfortable to stand and bend over at. It is also deeper than a traditional vanity allowing for more storage space. The best feature; the drawer on the bottom gives you an additional separate storage area for things like hairdriers, curling irons, brushes, lint brushes, even spare rolls of toilet paper.